Finding the right tools to efficiently manage a mobile workforce can be a challenge
Every minute and dollar counts toward profitability
Facilities maintenance services span a broad spectrum. Whether performing retrofits or energy upgrades, servicing HVAC and controls systems, or providing janitorial and landscaping services, your time and expense tracking needs to be as easy, accurate and seamless as possible.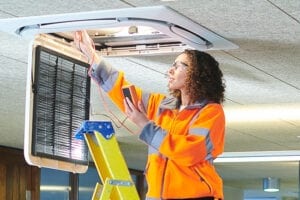 The truth is, if your time and expense tracking system is not 100% accurate, you're losing money. Without accurate timesheets, rigorous job costing and efficient project management companies leak cash — especially those with mobile workers and subcontractors.
Uncomplicate your time and expense tracking
With time tracking software like TimeScape™ facilities management companies can easily monitor, track and report on any billable component: crews, jobs, tasks, materials, locations and assets. Automated data entry helps squeeze more profits, reduce maintenance and repair costs, extend the life of assets and minimize disruption.
Eliminate paperwork & complicated software

Automate timesheets

100% accurate

Improve payroll tracking and job costing
Stay up-to-date with crew communication

Streamline your work order processes

Get accurate asset and materials status

Boost operational productivity
Seamless accounting and payroll
Back at the office, data from the field syncs seamlessly with QuickBooks and many other platforms for informed decision making. The TimeScape app dashboard shows real-time crew locations, time stamps, job duration, travel time and more. Staff can easily schedule and send work orders to mobile crews. Comprehensive reports display essential information at a glance.